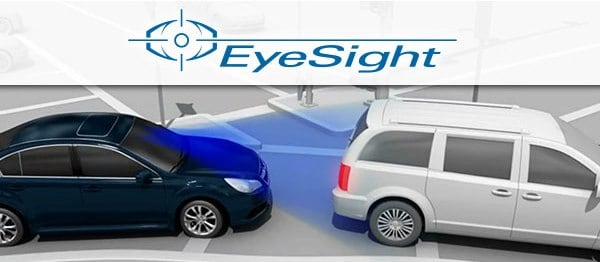 Subaru EyeSight®
EyeSight® sees the problems and initiates action to help avoid the trouble. Eyesight® will also sound an alert and flash a visual warning if there's danger of a collision and will apply the brakes automatically if you don't. It can also optimize cruise control and warn drivers when they're straying outside their lane.

Subaru's EyeSight technology looks to keep the occupants of the vehicle safe utilizing two cameras mounted on the inside of the windshield. These two cameras provide a stereo image, enabling the computer to assess movements and proximity to potential dangers. On top of those features, it can detect lane markings and determine the vehicles position within the lane, keeping the occupants safe in unsafe lane departures. In certain near-collision scenarios, the engine power can be cut, preventing any unwanted acceleration.

Subaru Eyesight System Features
Adaptive Cruise Control:  Two cameras are mounted by the rearview mirror to monitor traffic and react to conditions even before you do. One benefit is the optimization of your cruise control, sensing the pace of the vehicles ahead of you and helping to adjust the speed accordingly.
Pre-Collision Braking:  While monitoring the vehicles in front of you, Eyesight will sound an alert and flash a visual warning if there's danger of a collision. And it will apply the brakes automatically if you haven't already done so.
Lane Sway and Lane Departure Warning:  In the same way Eyesight keeps an eye on other vehicles, it also watches your vehicle's space in the lane, warning you if you've accidentally swayed too far to either side.
Pre-Collision Throttle Management:  The system senses the presence of obstacles in front of the vehicle. If you're accelerating when you shouldn't be,the system will reduce available power to lessen or potentially avoid a collision.
The Subaru Eyesight governs the adaptive cruise control, lead vehicle start alert, lane departure warning, lane swaying, pre-collision warnings, and pre-collision throttle and braking. In stop and go traffic the Subaru Eyesight technology continues to support safety by allowing the driver to set one of three following distances maintaining a safe following distance to the car in front of you.  For a closer look at Subaru's new Eyesight System and how it reacts while you drive, visit us at Subaru of Cherry Hill.
Hours
Monday

9 AM-8 PM

Tuesday

9 AM-8 PM

Wednesday

9 AM-8 PM

Thursday

9 AM-8 PM

Friday

9 AM-6 PM

Saturday

9 AM-5 PM

Sunday

Closed
Directions
Get Directions