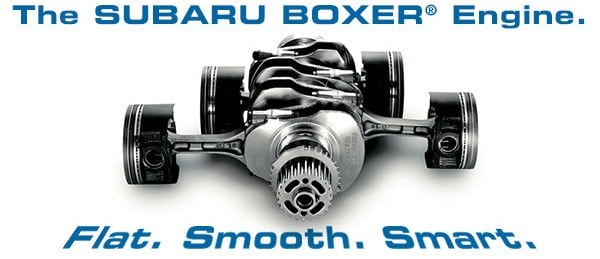 Subaru Boxer Engine Design & Specifications
Included in every Subaru Model Vehicle is a completely redesigned horizontal Subaru Boxer engine. Some of the new innovations that give a 10% bump in fuel efficiency and performance include a longer crankshaft stroke, a narrower bore, and a more compact combustion chamber. Other changes listed in the third generation Subaru boxer engine include changes to the intake ports, variable valve timing and implementation of exhaust gas recirculation for combustion chamber cooling.
Subaru Boxer Engine Efficiency and PowerGetting it's name from boxer like jabs, the pistons in the Subaru Boxer engine push out to either side as the cylinders lie flat on either side of the crankshaft. This allows for the Subaru Boxer engine to be more flat than a conventional design, giving the maximum transfer of power as the engine is positioned in-line with the drivetrain. As the Subaru Boxer design is flat, the center of gravity for the vehicle is lowered, giving the vehicle better overall handling and efficiency.  Test drive a Subaru today and experience the performance of a Boxer Engine.  We look forward to your visit right here in Portland Oregon at Wentworth Subaru.
BENEFITS OF THE SUBARU BOXER ENGINE


Flat layout allows engine output to flow directly into the transmission. This linear flow of power reduces engine components and inefficiencies, resulting in better fuel economy. Subarus are the most fuel efficient AWD vehicles in America, often getting better gas mileage than its FWD competitors.



By lowering the center of gravity of the engine, you also lower the center of gravity of the entire vehicle. A lower center of gravity = more responsive - particularly when cornering or doing evasive maneuvers.
 


Less Vibration. The natural counter punch of the opposite piston cancels out unwanted vibration where inline and v-type engines require additional components to accomplish this.



Safety. In the event of a frontal accident, the boxer engine's low center of gravity allows the engine to drop "below" the passenger compartment instead of in it.

Hours
Monday

9 AM-8 PM

Tuesday

9 AM-8 PM

Wednesday

9 AM-8 PM

Thursday

9 AM-8 PM

Friday

9 AM-6 PM

Saturday

9 AM-5 PM

Sunday

Closed
Directions
Get Directions