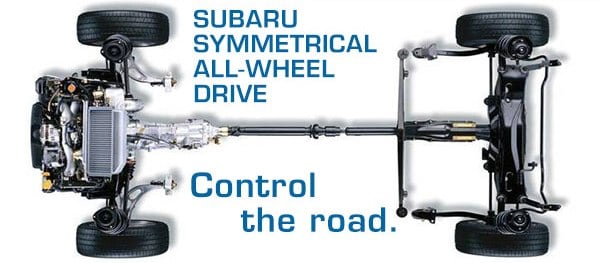 All Subaru vehicles sold in the US have Symmetrical All-Wheel Drive with the exception of the BRZ, a low center of gravity performance vehicle specifically designed without it. All references to the Subaru Symmetrical All-Wheel Drive on this page do not include the BRZ.
Subaru Symmetrical All-Wheel-Drive

With a 50/50 split torque between the front and rear axles, Subaru's Symmetrical All-Wheel-Drive system provides an even distribution of power without excessive design or parts. Through this balanced distribution of power, stability and control replace understeering or oversteering giving you the confidence you need with unpredictable road conditions. It can also transfer up to 80 percent of the power in the event of either end losing traction or dive the majority of the power to a single wheel to regain traction.
  
              Subaru All-Wheel Drive           vs.                 Other Competitors

Subarus are designed and engineered from the start to be All-Wheel Drive. Notice how the components are aligned in a straight line from the boxer engine --> transmission --> drive train and that both sides are symmetrical. This symmetry is incredibly efficient and provides power to all four wheels all the time for maximum traction, balance and control. Other examples of symmetry include butterflies and airplanes.

Competitor vehicles are primarily front wheel drive (FWD) biased that have been re-engineered with an AWD/4WD accessory package. With a typical transverse engine, output is rerouted multiple times to get power to the rear wheels. Its AWD often engages AFTER loss of traction is detected. Notice how the drive train is unbalanced, with the axle on the transmission side (L) shorter than the other. Can you imagine an airplane with one wing shorter than the other?
Don't let the competitors confuse you. They often say, "We have AWD just like Subaru!" For Nissan it's called Intuitive AWD. Honda is Real Time 4WD. Ford offers Intelligent 4WD and Toyota calls theirs On-Demand 4WD.  ONLY Subaru offers symmetrical all wheel drive.  Subaru has been building AWD vehicles for over 40 years! To them, it's a commitment, not an accessory. Which would YOU rather have?
Subaru All-Wheel Drive Handling and Stability
Symmetrical All-Wheel Drive has the Subaru Boxer engine placed in-line with the drive-train giving a seamless transfer of power to all four wheels.  With a differential inside its transfer case, is allows dynamic slippage between all four wheels and enabling it to operate both on and off pavement. With this differential, the system is perfect for delivering off-road traction and a smooth all-wheel drive experience on the road.  Test drive a Subaru today and see how its symmetrical all-wheel feels and handles on the road.  We look forward to your visit at Subaru of Cherry Hill.
Hours
Monday

9 AM-8 PM

Tuesday

9 AM-8 PM

Wednesday

9 AM-8 PM

Thursday

9 AM-8 PM

Friday

9 AM-6 PM

Saturday

9 AM-5 PM

Sunday

Closed
Directions
Get Directions