The Subaru of Cherry Hill Car Care Tips

Shannon Fiocco



7 Spring Car Care Tips | How to Get Your Car Ready for Spring | When Do I Swap Winter Tires for Summer Tires?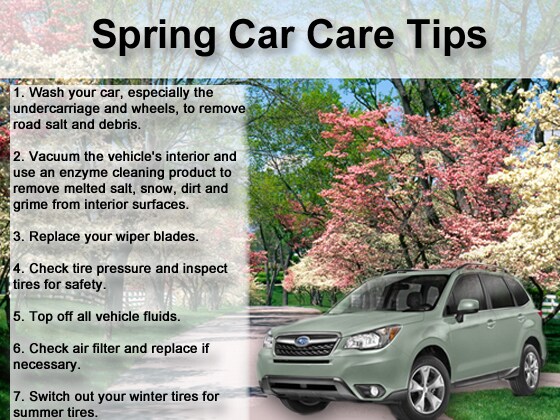 The changing of the seasons is often one of the best ways to time basic automobile maintenance. The dawn of spring is the perfect reminder for you to verify that your windshield wipers are still in good shape, your tires are holding air and your air filter is still clean enough to do its job properly. Spring is also a great time to rotate your tires, particularly if you live in a region where you don't need to swap on a set of summer rubber once the winter is over.

Warmer weather makes it easier to take care of all the cleaning you may have put off during the winter months. It is often far too cold to regularly wipe down the interior or hose off the exterior of your automobile during the December to April period, which means that the dirt, dust and grime associated with regular use can really build up.

Of course, winter brings with it several additional cleaning concerns that should be taken care of once spring rolls around. First and foremost, for those who live in a region where road salt is a fact of life, it's important to make sure all traces of this corrosive substance are removed from your vehicle, inside and out. Road salt is tenacious; it clings to every nook and cranny of your vehicle's undercarriage. Be sure your car wash, whether you do it yourself by hand or visit a self-serve or automatic car wash, includes your automobile's wheel wells and underside, which means that it is very important to make sure that whatever car wash you choose, offers the ability to liberally blast your chassis with strong jets of water. Since salt accumulation is one of the biggest contributors to rust, keeping it off your vehicle goes a long way toward protecting your investment.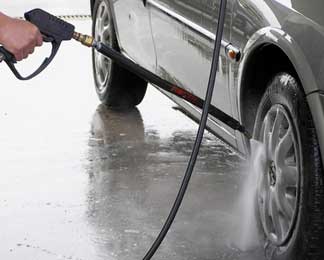 Salt, snow and ice are also very easy to track into your vehicle over the course of the winter where they melt together on carpets and floor mats. It can be frustrating to try to remove salt and mud stains from carpeting using traditional shampoos; fortunately, there are special enzyme cleaning products that are specifically designed to handle road salt, breaking it down so it can be removed from fabric. Simply spray on, wait and then wipe to take care of even the most frustrating lumps of road salt in your vehicle's interior.

Spring cleaning isn't just for houses and garages - your car can also seriously benefit from some extra care and attention. Taking the time in the spring to handle the little things can make a big difference in your car's appearance and performance, and lengthen its lifespan.

Replace your wiper blades. Wiper blades get a workout during the winter months and it is best to replace them each spring and fall. Have you been using a lot of windshield wiper fluid this winter to get the snow, slush, and road salt off your windshield? Now is a good time to top off all your vehicle's fluids.

Another thing to check is your tire pressure. Cold weather causes tires to be under-inflated and the onset of warm weather can over-inflate them. It is also a good idea to visually inspect your tires to make sure they're wearing evenly and have plenty of tread for the rain and mud of early Spring. Not sure what pressure your tires should be? Swing into Subaru of Cherry Hill's new Express Service Lane and we will gladly check your tire pressure and inflate your tires to proper air pressure for you!

Of course, if you don't have the time or the inclination for this kind of labor, Subaru of Cherry Hill offers state-of-the art cleaning and detailing services specifically tailored to your make and model. Specialized cleaning products, tools and techniques can make short work of even the most neglected vehicles, rewarding you with what might look like a brand-new car. For the do-it-yourself type of individual, Subaru of Cherry Hill is a great resource for advice, and for the products your vehicle's manufacturer recommends for use on its cars and trucks. Call 856-330-1500 to talk to our knowledgeable Subaru Service Advisors, Subaru Certified Service Technicians, or our Parts Department for Genuine Subaru Parts and Accessories and Subaru Recommended cleaning and detailing.