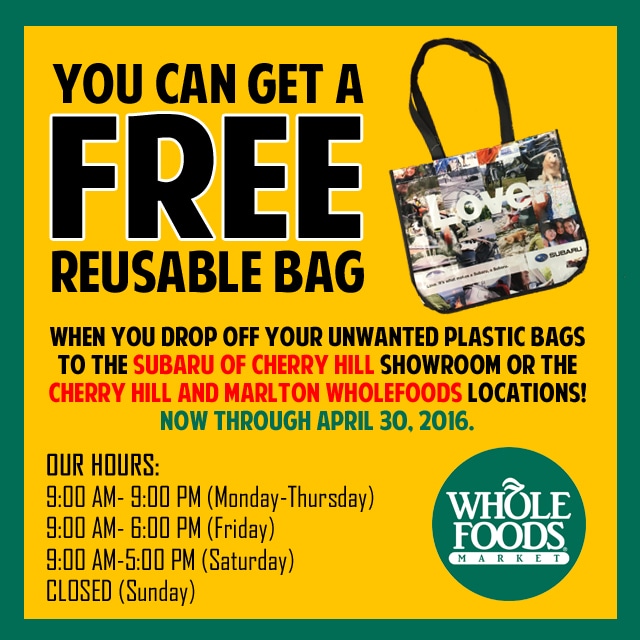 This month is all about going green! The Subaru Loves the Earth initiative is taking place throughout the month of April, and as a part of our contribution, we will be giving out free reusable grocery bags to the first 90 people who bring in their unwanted plastic bags!

Supplies are limited so come by as soon as you can!

You can drop off your bags during normal business hours in the box in our main showroom.

Once you drop off your bags, ask for Khilna or Sivon to receive your free reusable bag.

The goal of this collection is to encourage the use of reusable bags instead of plastic in order to reduce our impact on the environment.

We are also partnering with the local Whole Foods locations in Cherry Hill and Marlton who will be collecting plastic bags as well. You can drop off your plastic bags to their store locations throughout the month and during the week of April 17th-23rd, they will be giving out reusable bags to anyone who donates as an added bonus. Whole Foods supports green initiatives and living and has banned plastic bags in all of their stores for the past 8 years. Help us make the Earth a better place and tell us how you go green by using the hashtag #1greenthing on Twitter. Make sure you tag @SubaruofCH and @WholeFoodsSJ when you do!